Check-In Rewards and Much More in the Dragon Awaken 6th Anniversary Event
03/07/23

Dragon Awaken, the hugely popular browser gaming brand, is about to turn six.
As is customary around these parts, the game is celebrating this major milestone with a massive 6th Anniversary event, packed with exclusive gameplay features and a ton of juicy rewards.
Set to run from March 1st until March 5th, the event will feature daily check-in rewards, a matching game, a wheel of fortune, and much more.
If you're a member of the increasingly active Dragon Awaken community, this is your chance to cash-in big time. And if you're not already a player, this might be a good time to start.
The Dragon Awaken 6th Anniversary Celebration is so massive that it even has its own subtitle: The Return of the Glory. Here's what it contains.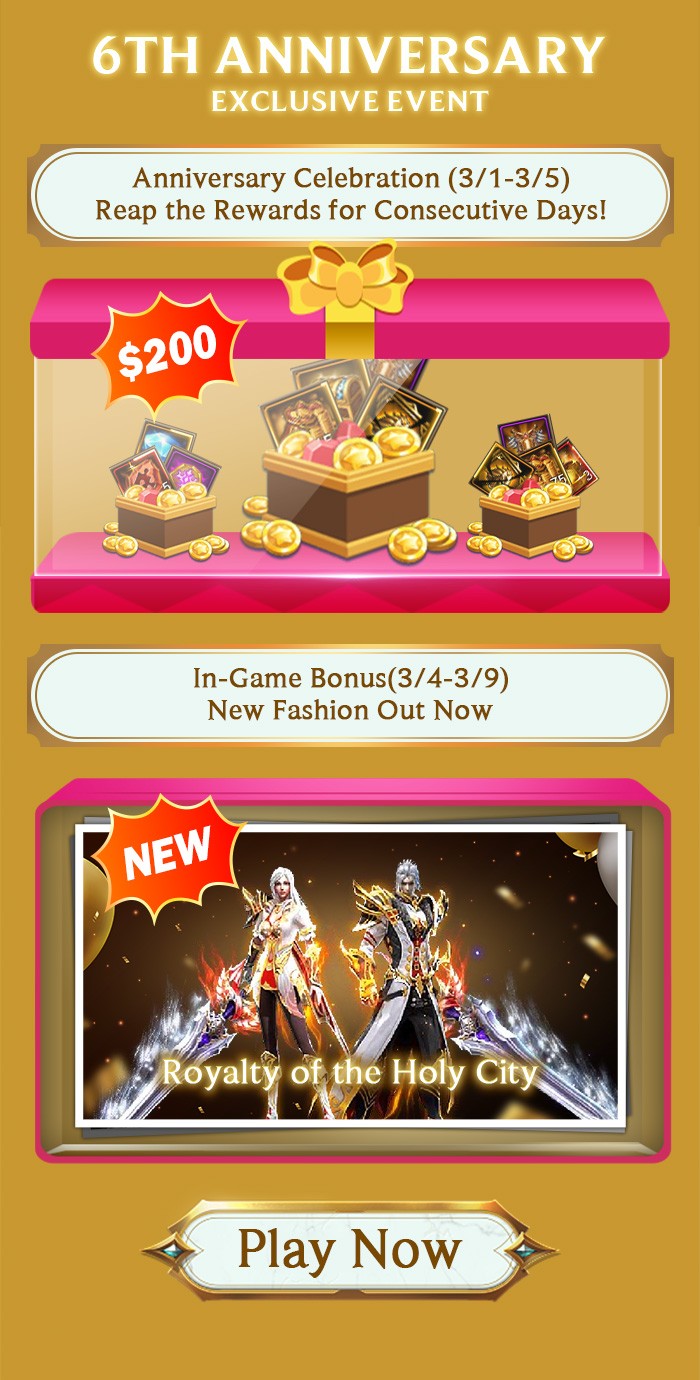 First up, there's the daily check-in. To take part in this one, all you need to do is show up once a day between March 1st and March 5th and claim your rewards.
Then there's the Flip & Match event, which sees you clicking on blank cards to turn them over. Whenever you flip two matching cards in a row they'll disappear from the board.
The goal is to clear the board in as few moves as possible to win Diamonds, Gold, and other rewards. .
Next, the Anniversary Wheel. This is a straight-up wheel of fortune that you can spin once a day for a chance to win a variety of different prizes.
Oh, and you can score yourself a spin on a second inner wheel every day by following the Dragon Awaken Facebook Page and recharging any amount.
There are limited-time Gift Packs on offer, too. You can exchange 72,000 points for an Anniversary Exclusive Pack worth $200 at the Gift Pack Shop.
We're still not done.
Finally, there's a range of events on Facebook and Discord. Just answer questions like "who is your pre-destined hero?", "how do you dress up in the game?", and "what's your favorite pet?" to win even more sweet, sweet prizes.
You've only got a few days to take advantage of the Dragon Awaken 6th Anniversary event, so we suggest you head to R2 Games and start playing right now.